Our wireless paging systems are a perfect solution for crew communication aboard Yachts. The system will eliminate overhead paging and provide a quiet yet effective way of paging the staff.
PORTABLE SILENT PAGE TRANSMITTER
Many Yachts use our wireless silent page transmitters to provide a fast and reliable method of communication between guests and staff. The wireless transmitters are strategically located throughout the Yacht allowing the owner or guest to call for service. The transmitter is available in a 1, 4, or 8 button model allowing you to choose which one will work best in the area it is needed. Each button of the transmitter is programmed with a specific message.
The transmitter will send a message in two seconds or less to any of our alphanumeric pagers or wireless LED displays.
UHF REPEATERS
For complete coverage of the vessel our UHF 5 watt repeater is popular. This device captures the transmitted messages from the pendants and "repeats" the signal by boosting it to 5 watts of power. This enhances penetration of the signal between the floors of the vessel allowing complete coverage.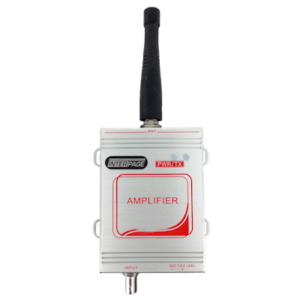 UHF Only (440- 470MHz) 5 Watt Output 12.5 KHz Channel Spacing NB Input Connector: BNC Female Output Connector: BNC Male Comes with Coax Jumper and ...