Wireless Server Call Button
Once guests are seated setting down, they will be delighted to see that with the push of a button they can request service or the bill. The Table Call system is a very small 3-button transmitter that can be placed on each table. Each button is programmed to signal a receiver Wrist Watch with the table number and an indicator for service, the bill, and cancel service button in case the guest accidentally pressed it.
View Product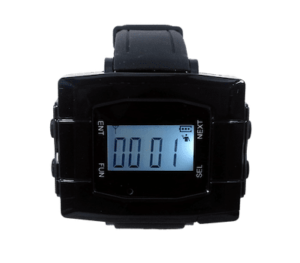 Features Shows 4-digit number from 0001 to 9999 Shows different service type with calling number Will show time when on standby Stores 10 calls and can track the calls up and down Rechargeable battery
View Product
The Receiver will display 2-digit numbers from 00 to 99. A display will show type of service requested. Adjustable volume. Display holds lasts 10 calls.
View Product