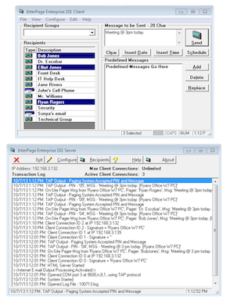 Being able to communicate with the members of your staff quickly and efficiently is extremely important to your business. The Enterprise 101 windows base paging software will benefit your business by streamlining the communications between staff and customers. It enables you to communicate with your staff discretely with a text message to an Alphanumeric Pager, a Coaster Pager, a smart phone, and most email addressable devices. In addition, you can send a message to an LED Display Sign announcing a sales promotion or a welcoming greeting to your customers.
View Product
The Inter Page Light-Signal software is a communication and information interface that provides a clear visual representation of all staff and patient activity throughout your office in a single display interface. Easy to use and interpret by staff, our system is discreet to patients through the use of a combination of light-buttons and audible tones.
Take advantage of our FREE 30 day trial offer! See below for more details.
View Product
Windows Based Messages: Alphanumeric Paging Format:: POCSAG RF Output Power: 150mw Freq: 410-490 MHz Baud Rate: 512/1200/2400 bps Housing Size: 3.55″ X 9″ X .63″
View Product